Hello there! I hope you can curl up into a comfortable spot and get yourself a steaming hot (or ice cold or lukewarm, whichever happens to rock your boat) cup of something nice to drink while reading my very first discussion post on my blog! Why? Because I have no idea what I'm doing but let's see how this goes 😂
For my very first discussion post I wanted to talk about star-ratings!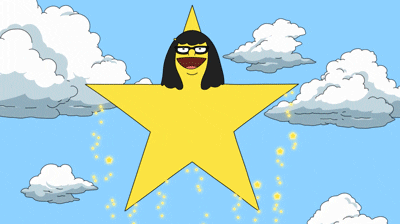 I love to use star-ratings when I'm reviewing a book. I find it an easy and quick way to categorise the books I have read into favourites, something that I liked, average or meh. I also tend to fixate on star-ratings when I read reviews. A three-star rating from someone who's taste I trust makes me hesitate to pick up the book, a two- or a one- star rating probably puts me off reading it and 4-5 stars encourages me to pick it up sooner than I was meaning to.
But using star-ratings and relying on others' ratings can be a dangerous jungle. Star-ratings don't have any generally accepted meanings; someone might rate a book 5* even though they recognise several problematic aspects in it while another could easily reserve all 5* ratings for spectacular, mind-blowing books only.
And are 5 distinctive numbers enough? I tend to stretch those 5 stars into ultimate possibilities and therefore I can give a book 3.889 stars and a carrot for being awesome. (This somewhat undermines my original goal of creating discrete categories for the books I have read 😂).
Below I'll explore 6 different scenarios that I have encountered lately in which I had no idea how to rate the book I read.