Hello there!
I have been majorly neglecting the writing of wrap-ups lately so tadah – here is a combo wrap-up of March and April! These months have been absolutely crazy and I haven't been able to read as much as I would have liked but that's fine 😊 There's no need to be super productive during a pandemic after all!
March and April were also special to my reading situation in other ways – in March I made myself a TBR flowchart for the first time and used it to select the books I read, and in April I took part in the OWLs Magical Readathon ✨ I loved doing both!
What I read in March
Here's the March TBR flowchart that I tried my very best to follow:
I had such fun doing the flowchart and even more following it! But I have to admit that I wasn't completely faithful to it 🙊
Books I read inspired by the flowchart
The Confession by Jessie Burton
The Confession is a deeply emotional (read: soul-destroyingly good) story about Rose trying to find out what happened to her mother 30 years ago. This book has depth and complexity, and it was everything I wanted! Jessie Burton is the author of The Miniaturist, and so I didn't expect anything but greatness from her, but The Confession managed to live up to my high expectations and it even exceeded beyond them.
Clockwork Princess (The Infernal Devices #3) by Cassandra Clare
I binge-listened to the audiobooks of The Infernal Devices during February and March, and really enjoyed all of the three books! I craved Clockwork Princess to have a more of an emotional punch to it, and I was nearly disappointed until the epilogue – and then the epilogue killed me. I was still crying 30mins after I finished it 😭
Autumn by Ali Smith
Autumn is the first book in the Seasons series and it mesmerised me. This weird little thing feels realistic and relatable, but also pretty manic at times. It is political and follows events after the Brexit referendum in Britain – but it touches on so many common topics of injustice in everyday life that I believe it could also be easily enjoyed by someone who doesn't know much about Brexit!
I also started Wicked as you Wish by Rin Chupeco but decided to DNF it early on – the writing style really didn't work for me and I found it very infodumpy. I have a more elaborate exploration here in my Goodreads review. I also started Queen of Ruin by Tracy Banghart inspired by the flowchart but didn't finish it before April.
I would declare the flowchart a success! It helped me to select books that fit my ever changing reading mood and I ended up really enjoying all of those three books.
Books I randomly read in March
or books I picked up even though they weren't in my flowchart
No One is too Small to Make a Difference by Greta Thunberg
This short book is a collection of speeches by Greta Thunberg. The audiobook came suddenly available from my library and as it was very short, I flew through it in one evening while reorganising my bookshelves. It was very enjoyable and overall an empowering collection, although understandably repetative. I wished there was more of it; I wanted to see interviews with environmental researchers and explanations of the research that Greta references. It isn't a self-help book or a manual on fixing the Earth – but hopefully it does make every reader act, move and think.
The Bookish Life of Nina Hill by Abbi Waxman
This one I should have just skipped. But I kept seeing glowing reviews everywhere about how the Bookish Life of Nina Hill is a booklover's dream come true; a relatable story about navigating the busy world as an anxious bookwork. But it wasn't that at all for me. My opinion is very unpopular, and I have a full rant-review here in Goodreads. But here is a summary of it: Nina isn't that bookish but more of a collector of random information, she wasn't relatable to me and she was pretty prejudiced and annoying. The plot is ridiculous when it shows up at all, and I simply hated reading it.
Books I started before March but finished in March
Clockwork Prince (The Infernal Devices #2) by Cassandra Clare
I mentioned above that I binge-listened to the Infernal Devices, Clockwork Prince included. I really enjoyed this sequel to the Clockwork Angel although not quite as much (the first book got 5 stars from me). The plot wasn't as gripping as in the first book but I still enjoyed it, and I grew to love the characters!
The Corset by Laura Purcell
This beauty was a buddy read with Stephen @ Stephen Reads! I had such a great time buddy reading it, and we had amazing, detailed discussions of it. Stephen wrote a review of the Corset in his blog and I agree with everything he says about it whole-heartedly! Go check it out here. The plot was gripping but the book didn't manage to hold my attention all the time. Even though the book had two POVs, I grew strongly attached with only one of these main characters and I found the other POV slightly uninteresting.
Happy Fat: Taking up Space in a World that Wants to Shrink You by Sofie Hagen
Happy Fat is an impactful and empowering book against fatphobia and fatshaming. It is one of those rare nonfiction books that is actually successful in holding up both the enjoyable, light and funny tone, and the important, strong message. Sofie Hagen's stand-up comedy is brilliant – she is witty, compassionate, feminist and really funny. Her personality also shines in the book and I laughed out loud quite a few times, but the light tone doesn't dull the impact of the message. Sofie manages to convey painful experiences and stereotypes with care, and the book includes multiple interviews to gather together multiple perspectives of fatness. My only problem was that the beginning of the book could have done with a bit more editing – I felt like the writing style changed dramatically after the first 50 pages.
What I Read in April
Every year G @ The Book Roast organises a Magical Readathon, the OWLs in April. The month-long readathon is always a highlight in my reading year! This month my plan was to reach the career of a Spell Maker 💫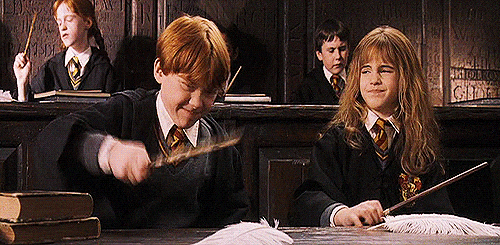 But although I tried my best to reach the excellency of Hermione, my spell making was Ron-level at best 😂 For real, I somehow got distracted – ehrm I bought a Nintendo Switch and Animal Crossing oops.
Here are the prompts that I aimed to finish. There were 7 of them which was pretty ambitious to begin with.
During the readathon I managed to finish:
Astronomy: Read a book when it is dark outside 🌘
Charms: A book with a white cover 🌟
History of Magic: A book featuring witches 🔮
Transfiguration: A book featuring shapeshifting 🐱
I started reading books for Ancient Runes and Arithmancy too, but I didn't manage to finish them in April. I also pulled and stretched at the prompts to make some books fit that I reaaally wanted to read 🙊
The Reader by Traci Chee
Read for History of Magic 🔮
So this book kind of features witches – I counted it for the prompt as witchery was mentioned on the first page, but this witchery was a bit vague when I look back on it now. The Reader is a YA fantasy about a world in which reading is unheard of. I was completely immersed in it at the beginning and dying to find out what was going to happen, until the plot took a turn to pirates. I'm not a big fan of books about pirates, and my enthusiasm for The Reader also significantly deflected when I realised what it is about. But along with pirates came a shift in the plot; the story started to drag and some scenes didn't make much sense to me. Overall, I found the worldbuilding confusing and by the half-way mark I felt detached and uninterested in the story. However, the way The Reader was written was beautifuly throughout, and I would love to read a contemporary by this author!
Queen of Ruin (Grace and Fury #2) by Tracy Banghart
Read for Transfiguration 🐱
The shapeshifting in this book isn't the McGonagall type, but valid shapeshifting nevertheless; the characters in this series grow so much that they are nearly unrecognisable by the end of this second book! This series is cheesy yet empowering. It is an unapologetically feminist YA fantasy about women who have been treated badly and who are ready to fight their way to equality. It is so feminist that it becomes borderline preachy at times, and I'm so here for it – too many fantasies are described as feminist when they fail to address important issues or they tiptoe around difficult topics. Queen of Ruin didn't hesitate to educate & entertain!
Hold Back the Tide by Melinda Salisbury
Read for Astronomy 🌘
Hold Back the Tide is just enough horror for a chicken like me – about the same level of horror as Illuminae which also made me very spooked. I read it only when it was dark outside, and dang reading this in the middle of the night was terrifying. But I couldn't stop because it is so immersive and addictive! An eerie atmosphere and Melinda Salisbury's enchanting writing style made sure that I got chills from the very beginning. I highly recommend that you read this one without as much as a quick glance at the blurb! It was so enjoyable reading it without any idea about what would happen next. I'm only saying this; a girl who lives with her murderer-dad in the middle of the woods, and nearby villagers hate them both.
Blanca & Roja by Anna-Marie McLemore
Read for Charms 🌟
Blanca & Roja is just lovely. It is a story about sisters of whom one must turn into a swan so that the other gets to live as a human. This book has great pan and trans rep, and the fairytale atmosphere swept me away. It is a retelling of Snow-white and Rose-red which I have been intrigued by since I came across it in a storybook when I was 8, this book reignited my love for that story and now I'm eager to reread it. I have only one reason for not awarding Blanca & Roja with full 5-stars; within all the emotional conflict, I sometimes lost sight of the plot. I would be so immersed in the metaphors and beautiful scenery that I didn't realise that something actually happened, which made me confused and pulled me out of the story.
It's time to take a quick peek at the OWLs career guide to see if I qualify for a career with these OWLs…
and after a quick browse it seems like I haven't 🙈 To avoid turning into an unemployed witch, I think I'll try to resit OWLs sometime before the NEWTs take place in August! This is actually quite fun, I have never resit an exam before 😂
What have you been reading lately? Did you take part in OWLs? Did you do better than I did (as in did you pass lol)? Did you read any good books? I would love to know!
Hope you're safe and well, and I promise to work harder for the next readathon in May; the Medieval-A-Thon! Are you taking part?
Thank you so much for reading!