Hello my fellow bookaholics!
A week and a year ago I set up The Bookaholic Dreamer and wrote my first ever blogpost, a Newbie Tag with a bunch of gifs and distasteful, awkward jokes. I wanted to have a channel in which to share my love of books so that I could stop exhausting my partner and friends with all the endless TBRs, wrap-ups and recommendations my mind was full of. It felt like a brave but lonely decision; I was certain that I would have a lot of fun writing posts about books but I also knew that no one would ever stumble across this place. Until you suddenly did. And it wasn't lonely anymore. Instead, I suddenly was able to join in on the community that I was a big fan of. I was welcomed into a world full of fellow bookaholics.
It can be quite lonely in the world even when you are surrounded by family and friends. For me this was because of my intense bookish-ness. While I could get my partner to read some of my favourite books, he wouldn't go quite as hyped about new releases or book covers as I would. Many people around me meant to be kind, but they also told me that I should be on a pub crawl instead of reading on a Friday night, and that I should downsize my bookshelves or get rid off editions I love. What made me lonely, was a complete lack of people who would fully understand my love for books. People to whom I could talk about Aurora Rising by Jay Kristoff and Amie Kaufman and who wouldn't need a backstory about the brilliantness of the Illuminae Files. Or people who know the feeling when you are asked what you did the day before and you want to respond that you were fighting dragons, solving a murder mystery or falling in love in a space ship. Now I have all of you.
Thank you for being there.
I wanted to celebrate this one-year birthday somehow here in the blog in addition to giving this monologue that caused me to ugly cry for 20 minutes. First of all, there will be a giveaway! I have never done one of these before so I'm quite nervous 😬 At the bottom of this blogpost you will find a Rafflecopter and some instructions, and you could win £15 worth of books from Wordery. The giveaway is not sponsored by anyone but my own warmth-filled heart and thin wallet, and the giveaway is open for anyone to whom Wordery ships to (INT).
To celebrate, I also wanted to do something that I haven't done in a while but love doing; a tag! Bibi @ Bibi's Book Blog kindly tagged me at the Liebster Award recently. Thank you so much Bibi! You should check out her blog, she not only does amazing tag posts but also great reviews, giveaways and discussions!
The Liebster Award
THE RULES:
Acknowledge the blog that gave it to you and display the award
Answer 11 questions that the blogger gives you
Give 11 random facts about yourself (as this post is already so long, I'll skip this part 😊 )
Nominate 11 blogs and notify them of their nomination
Give these blogs 11 questions to answer
Questions from Bibi:
What's one thing people often say, that rubs you the wrong way?
Uuu we are going straight to the piping hot tea 🍵 My number one most hated thing that people tell me is that I will change my mind about not wanting to have children 😤 I'm married, so people tend to ask me quite often about when my partner and I will have children. Not only do I hate the question itself (I think they should ask whether we want kids or not, instead of when do we want them), but most of all, I hate that when I say that I don't want any, the person responds "not yet" or "you will change your mind".
I hear this often from slightly older women who tend to think that my opinions are a part of a temporary rebellion against our abusive society. However, by assuming that, they do not give the appropriate weight to my words and thus silence me as a young woman. Usually (in my momentary anger) I point out that the asker would never say the same to a woman of my age who wants to have children. Therefore, they end up not giving weight to my opinion simply because it doesn't happen to allign with their values.
What's your favourite hot beverage?
Hmmm coffee maybe! I love to drink filter coffee made with light roast coffee beans on a chemex.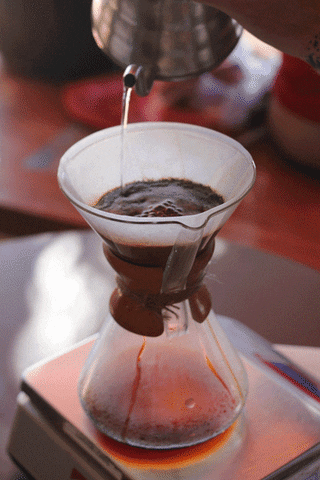 But there's a contestant for chemex coffee: a hot cocktail I had at Christmas a couple years ago. It was a gingerbread flavoured hot cocktail and it was heavenly. I have yet to find it again though, even after marching to the same cocktail bar and praying them to make it again for me (they didn't remember how).
Who's your celebrity crush?
My girl-crush is most definitely Cassey Ho from Blogilates. She does pilates videos on Youtube and she also has her own active wear store called Popflex (I love her leggings so much, I basically live in them). Cassey is simply a kind, optimistic powerhouse. She is strong, passionate and intelligent. She inspires me all the time and I love doing her fitness videos simply because she is so motivating. Also, look at her. She is so pretty.
My boy-crush is probably Joseph Gordon Levitt. 500 Days of Summer is one of my favourite movies, and he is just really… cute.
What's your favourite movie genre?
Recently I have fallen in love with all Disney live-action movies, and musicals. I still haven't gotten over The Greatest Showman soundtrack or The Beauty and the Beast. I also like historical dramas.
Do you have a song that always cheers you up?
Well, talking about the Greatest Showman soundtrack 😂 😂 I really love From Now On. It cheers me up if I'm feeling down because of how the song develops; it starts low and blue and then builds up to this super catchy part that always gets me dancing.
What made you start blogging?
Ah, I kind of accidentally answered this question in my emotional monologue at the beginning of the blog post. I love sharing my love of books with like-minded people, and most of all I love making new friends. I'm going to cry again, oh no, here it comes 😭
Are you an adrenaline junkie?
No, not really. While I have paid more attention lately in trying to actively do things I want to do despite of being afraid to do them, I wouldn't do scary things simply for the sake of an adrenaline rush. But I like to do things to achieve an endorphine and endocannabinoid rush, like going for a long run at a high pace or climbing a mountain to get a sense of elation.
Do you have a bucket list?
I don't 😊 I like to think of goals in my life a bit differently. I have short-term goals like don't-die-in-writing-my-masters-thesis and read-&-blog-&-exercise, long-term goals like run a half-marathon and start and finish a PhD, and crazy long-term goals like learn about owning a business and start my own bookshop. I think bucket lists wouldn't work for me as I change my mind so often about where I want to travel and whether or not I want to bungee jump. 🤔 I have a kind of reading bucket list though which includes a bunch of intimidating tomes and classics.
Do you find other peoples opinion of you important?
I'm an anxious mess so mmmm
If you could ask me anything, what would you want to know?
Bibi, I want to know what you are super passionate about! Anything that makes you inspired, fascinated, and awestruck. Something that never fails to fill you with joy 🤩
What question do you wish I had asked you, and what's the answer to said question?
AH what a tough question Bibi!! 😱
Hmmm I think I wish you had asked me about what I'm working on because I'm in love with my research topics and I want all the world to hear about them. (Although I do need to point out that what I love are my topics, they are my little pieces of inspiration and they bring me loads of joy, but I'm not super keen on writing my thesis.)
My masters research is on electronic, academic reading strategies. I have undergraduate students read their course materials on an e-reader that tracks their reading process. I then analyse the data and try to find patterns in it in relation to the students' motivation and grades. It's a first ever investigation of how students read their academic materials in everyday life and I'm super proud of it!
What I'm even more proud of, is my future PhD research. I will be studying recreational reading behaviour of adults! I will look for participants to read an entire novel on the e-reader while their behaviour is tracked. I'll be able to say a lot about how reading fits into avid readers' everyday life after my studies! (We can finally uncover what super-powers we readers, have)
My Questions to you:
Who is your absolute favourite book character?
What is your favourite fruit?
You just walked into a lovely coffee shop, what is your order?
Which house-chore do you despise and which one is your fave?
Book shopping in store or online?
What is your Hogwarts house?
Who is your favourite author?
What would your dream holiday be like?
What is the worst book you have ever read, and why?
What is your favourite book cover and why?
Which book would you like to have a movie/series adaptation of?
I nominate:
Absolutely no pressure to do the tag if you don't want to 🥰
The Giveaway
It's finally time! 😱 I'm scared and excited to share with you my first ever giveaway! I wanted to properly celebrate my first blog-versary and give back to the lovely bookish community in the form of books 🥰
One random winner can select as many books as they want from Wordery.com as long as the total value doesn't exceed £15 (~19USD)! You are eligible to take part if Wordery.com delivers to you (they have a free worldwide delivery, but I'm not sure if they deliver to absolutely everywhere). You must also be willing to give me your address or otherwise I can't magic the books to you.
I'll pick a winner by Rafflecopter on Tuesday the 18th of June 💫
Take part via Rafflecopter right here: GIVEAWAY
A year of The Bookaholic Dreamer and hopefully many more ahead! 🥳 From the bottom of my heart, thank you, and I hope you will take part in the giveaway 😊 To participate you don't have to do anything but just click that link above and indicate that you're following this blog.
Thank you so much for reading!
-Pauliina