It's finally time for my Fairyloot unboxing for January!
Fairyloot is a monthly bookish subscription box based in the UK! Every month they select a theme and fill a box with bookish goodies that fit the theme, in addition to a newly released, hardcover, signed YA fantasy book. The contents are a surprise until you open up this magical treasure crate. See more in their website.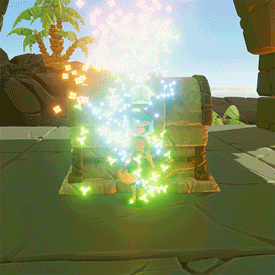 I got a Fairyloot subscription from my husband for Christmas. I was pretty much jumping around the livingroom with tears in my eyes when he told me. I'M SO GRATEFUL. He got me a subscription once before, a year ago, and Fairyloot turned out to be preeetty much holy for me 😂 I get super excited once the theme is announced, I stare at my calendar longingly for weeks until the crate gets here and then I make a huge event for myself of unboxing it. I need candles, quiet music and lots of room to get hyped. And then I get excited about the next box while enjoying the previously received goodies. If someone built a religion around bookish subscription boxes I would join.
Let's start unboxing!! A note of warning, if you are subscribed to Fairyloot but for some reason haven't received your box or have yet to find the perfect time to open it (relatable), stop reading here to avoid getting spoiled for the January box. (Then come back later to hype with me!!)
At the top of this treasure chest is this month's content card! The theme for this month was Unbreakable Bonds and the artwork is by the amazing Taratjah. Seriously her art makes me gasp out loud every time. The other side of the card includes a list of everything in the box, so no peeking!
At first we have a cushion cover (!!) The design of it is SO GORGEOUS that I just stared at it for 10 minutes. The typology 'The Trees Speak Latin' is made by KDP Letters and the illustration on the other side is by Monolimeart. This cushion cover is all about the Raven Boys series by Maggie Stiefvater which I read a year ago. It is not my favourite series, but gosh I loved Blue and Adam so much that I'm really happy to have this!
Next up is a candle by Geeky Clean! It features Will and Jem from the Infernal Devices (which I have yet to read eeeek) and it smells devine. The scent is tea and sweet sage. A bit like a dusty musk with a bit of something sharp. Yep, I am great at describing smells aren't I.
After the candle, a mysterious tin falls into my hands. It is salted caramel hot chocolate by Tea Leaf Co!! The tin is packed to the brim and it smells delicious. The illustration on the cover is of the Remnant Chronicles which I'm dying to read. I already tried the hot chocolate, and while it doesn't taste very chocolat-y, it is amazingly autumnal. It kind of brings to mind a pumpkin spiced latte so I'm very happy with it 😍 It's vegan!
A hair band 😱 It is silky smooth and has illustrations of cups, dice, guns and crows, inspired by Six of Crows by Leigh Bardugo! I have yet to read that one but I will do as soon as I finish the Shadow and Bone trilogy first 😁 I don't use hair bands all that often but I kind of fell for this one. I used it for a day and now I want a gazillion more of them with different bookish designs. I was planning to take a selfie with me wearing it but I forgot earlier and now I'm too lazy. But I swear, it's cute!
I live for lipbalms and I'm so happy to have received this one by Book and Nook. I'm not the biggest fan of the scent or the illustration though; the scent is mint & violet and it makes me think I'm moisturizing my ever-cracking lips with toothpaste. But it does give a nice, fresh feeling because of the mint. The illustration is based on Jules and Arsinoe in Three Dark Crowns by Kendare Blake (I love that series!!) and hmmm, I don't know, I imagined the characters a bit differently.
A woodmark!! We are spoiled this month 😍 😍 This woodmark is made by Ink and Wonder Designs and it is a beautifully illustrated bookmark made out of thin, sustainably sourced wood. The design is inspired by The Lord of the Rings by J.R.R Tolkien, and I'm in loooove with it. So pretty!!
I took these out first but then I got too excited about the woodmark 😅 These beautiful, and pretty large tarot cards are a new collectible series Fairyloot is doing! They have included two cards in every box since last December, the characters are based on a fandom voted by subscribers. The fandom changes every 3 months! We are still in the A Court of Thorns and Roses fandom and I'm not jumping of joy. I have a hmm, difficult relationship with ACOTAR, something I have been meaning to do a discussion post about for forever! But I still appreciate these cards for the amazing illustrations, they are gorgeous!
Some extra goodies cover the book at the bottom of the box! Fairyloot included two postcards to promo the release of Once & Future and Black Coats (I'm so confused about the title, it says Black Coats but the Fairyloot content card says Black Cats. Is it going to be about jackets or furry-love-balls? We might never know. Unless someone just checks it on Goodreads.)
We have reached the most exciting moment in this unboxing! The book! I have a wild guess about what it is going to be. And if I'm right I'll be so happy. Can I have some drumroll please? Am I stalling? Yes?
I was right!! The book of the month is Circle of Shadows by Evelyn Skye!! Fairyloot says that 'You'll find epic friendships, magic-wielding ninjas, romance and so much more in this fun story!' I'M SO READY FOR MAGIC NINJAS.
We were treated to a Fairyloot exclusive edition, which is absolutely gorgeous. It has lilac sprayed edges and it is signed by the author. I love the cover too!
Fairyloot always includes a letter from the author, on the other side of which is a character illustration. This pink-toned illustration was made by @sallteas and I love it! It makes me even more excited to read the book!
We also received a Fairyscoop that includes an interview with the authot, details of the readalong for the book of the month, and also a sneak peak into the next month's theme. And you know what it is?!? It's Beauty and the Beast! Everything in the box will be inspired by Beauty and the Beast and the book will be a retelling! I don't know if you're aware, but I adore Beauty and the Beast retellings (I just recently read A Curse so Dark and Lonely which was aaamaaazing)
Here is my full unboxing of the January Fairyloot box 😍
What do you think of the box? What was your favourite item?
I think my favourite item is the cushion cover while my least favourite is the lipbalm 🤔 But I really liked everything in the box!
Are you planning to read Circle of Shadows? I have heard great things about Evelyn Skye's earlier series, the Crown's Game, so I have a feeling that she is a great writer.
Thank you so much for reading!
-Pauliina