Merry Christmas to all those who are celebrating and a nice and relaxing week for all those who are not 😊 !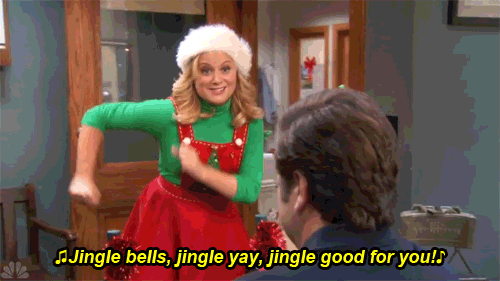 The lovely and sweet Caro @ The Book Cheshire Cat tagged me in this Christmasy tag. Thank you Caro 😍 😘 If you haven't checked out her blog, then ack, were have you been? QUiCk! Rush to see Caro's Blogmas posts, she has written a bunch of amazing book and movie recommendations, fabulous reviews and a lot more.
Let's get cracking with the tag!
The Rules
Link to the person who tagged you
Link to me (Kate), as I'd love to read your answers
Answer all 10 questions, choosing books for each theme
Tag five people to do this
You get up on Christmas morning and your stocking is full! You take it down and start to unwrap the treats inside. The first thing you see is…
An orange! Which book is refreshing and vibrant, both inside and out?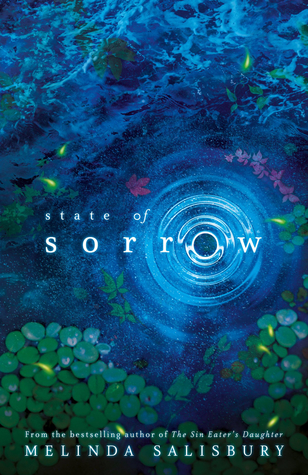 I read State of Sorrow within a day during a 24 hour readathon this year. It is an unputdownable read but what makes it refreshing is how clever it is. As soon as I came up with a guess or a solution to a problem, the characters did too within a page of my realization. I was never able to stay far ahead in my reasoning and I never guessed a villain's identity. That actually happens pretty often when reading other YA dark fantasies! The characters in State of Sorrow were real and human with natural flaws. It is so refreshing to be outsmarted by a book!
The next thing you see is a bag of chocolate coins. (Yum)
Which book have you recently bought that was expensive, but totally worth the high price?
I was debating about whether I should buy this beauty for a long time because of its prize, but I knew I would regret it if I missed it! I especially wanted a copy of the striking UK hardcover edition and I really think it was worth it because I loved the book!
You also pull out a bath bomb.
Tell us about a book that had explosive action scenes.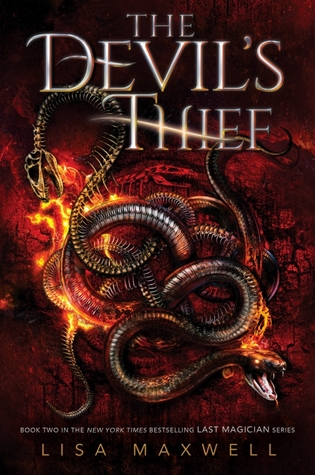 This sequel matched the level of explosive action scenes in the first book, The Last Magician. While the book has its slower, more character driven moments, the action scenes did make me glued to my spot gasping for a breath. What I love about this series is that the action is also very realistic and easily visualized! I often read action packed scenes in which I'm a bit lost about what is going on, who is hitting who and whose leg is where. The Devil's Thief isn't anything like that.
Next is a packet of playing cards.
Which series won you over?
I wasn't a big fan of the Raven Cycle by Maggie Stiefvater but I decided to read the companion short-story, and the introduction to the Ronan Trilogy, because it includes Adam who was my favourite character from the Raven Cycle. I was expecting something entertaining, but I wasn't expecting to love it! I wasn't supposed to read the Ronan Trilogy but now I think I will.
You also get a candle.
Which character is a symbol of hope in their story?
Lazlo Strange in the Strange the Dreamer duology! I love this series, and Lazlo is a huge part of my affection. He is the kindest and most loving character I have ever met in a book.
There are socks inside too.
Is there a book that you think really encompasses all the distinctive tropes of its genre?
The Confectioner's Guild by Claire Luana is a YA mystery with magical elements, and it definitely follows a familiar, tropy mystery storyline. But this cupcake mystery has something extra to offer: it is so silly. I'm not a big fan of tropes but this book made me laugh out loud when reading it. Some events are so tropy and silly that I just ended up falling in love with this book. It's hilarious when the usually annoying tropes are drawn to the extreme for irony.
There's also a notebook.
Which author's writing process do you find most interesting/inspiring?
I have to admit that I don't follow authors' newsletters and twitter accounts closely enough that I could say anything about their writing process. I only get one writer in my mind and she hasn't published anything yet, and that is Hailey from her booktube channel Hailey in Bookland. I started following her a bit more than a year ago because of her amazing reading vlogs. Now in 2018 she has been more focused on writing and I have been watching her writing vlogs! She has written two books so far and her writing process is very inspiring. I love how she motivates herself everyday and how passionate she is about her works in progress. I really hope that she gets a publishing deal, I can't wait to read her books!
To go with the notebook, there's a fancy pen.
Is there a book or a series that you'd change if you'd written it yourself?
I loved the idea of Every Heart a Doorway – children who have made it to a magical world have to deal with the real world when they are forced out of their magical land. It is such an amazing idea and I wanted to see how the children deal with their mental health. Many of them had lived in a magical land until they had grown up only to find themselves back in their original home as 8-year-olds. However, this fascinating concept was dampened by a hastily produced mystery plot that didn't make much sense. I would take out the mystery and focus on the fates of the children.
There's also a small bedside clock.
Which book took you a long time to pick up but was worth it in the end?
I had Americanah in my TBR for years and I finally read it this year! It was such an amazing experience and a complete emotional roller coaster. It was definitely an intimidating read because it is literary fiction and pretty long one at that. But I ended up enjoying it thoroughly and I gave it 5-stars in the end!
Your pile is getting really big. You reach in to pull out the last gift and it's… a lump of coal? You're a little disappointed. But you look closer and realise there's a seam running through the coal. You crack it open and sitting inside is a tiny golden snitch.
Tell us about a book that surprised you in some way.
Sabriel by Garth Nix is a YA fantasy published in 1995. Somehow I thought that I wouldn't be a fan of it because I imagined it containing a truckload of tropes. I persisted regardless of my confusion in the beginning, and it really paid off! I ended up devouring this series and I loved the story and the characters.
Thank you so much for the tag Caro! I'm not going to tag anyone this time because it is a Christmas stocking tag and I'm myself doing this on the Christmas day 😂 It might be a bit of a too short notice for anyone to do this. But if you like a good challenge then please go ahead and do this tag! Link back to this post if you do this, I would love to see your answers 😊
What do you think about my answers? What would you answer for each one? I would love to know!
Thank you so much for reading!
-Pauliina