August was the month of NEWTs, Nastily Exhausting Wizarding Tests! The reading challenge was hosted by Book Roast and the goal was to read books that fit prompts and achieve grades in different wizarding school subjects.
In the beginning of August, I constructed a TBR for the NEWTs and I pledged to achieve an Outstanding grade in one subject and at least an Acceptable grade in another. Well at least one thing did not go according to plan: I didn't follow the TBR AT ALL. My mood drove my reading choices but I did manage to pick only books that fit the challenge prompts even though I wasn't planning to read the books that I ended up reading.
I'm awful, I know 😂 I can't even follow my own plans 😂
As I did my OWLs in Arithmancy, Charms, Herbology, Potions and Transfiguration, these are the subjects I was also working on in NEWTs.
(If you haven't got the faintest what I'm talking about you can watch this, or you're good just by knowing that A=Acceptable, E=Exceeds Expectations, and O=Outstanding)
Books I finished
Arithmancy
A: Book of at least 300 pages
Nightingale by Kristin Hannah

I wasn't really in the mood for historical fiction when I picked up this book about two sisters from a WW2 tormented France. Nevertheless, the Nightingale turned out to be so engaging and easy to read that I was immersed although my mood demanded fantasy. This is a beautiful and heart-wrenching story, and I loved how different the sisters were from each other. It didn't take the spot of my favourite WW2 historical fiction from All the Light We Cannot See because I found the Nightingale somewhat predictable and I expected it to emotionally destroy me when I was only somewhat emotionally damaged by it.
E: Ends on an even-numbered page
The Last Magician by Lisa Maxwell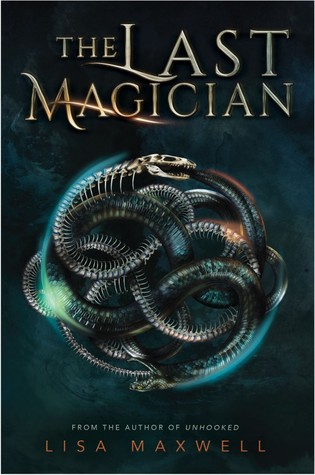 The Last Magician is a deliciously twisted timetravel story about a world where magic is despised. To control the power of magicians, a border has been installed around New York that forces the magicians to stay in the city. In case they try to cross the border, their skill is sucked away leaving the individuals disarrayed, mad or dead.
Esta is a talented thief partly due to her ability to grasp time and bend it to her will. Due to her unique skill, she will be tasked to go back in time to 1902 to steal a book of magic that might reveal how to destroy the border.
I really enjoyed this book and especially the characters in it but I had this strange feeling that something was missing. At times I was confused about what was happening and sometimes I found it difficult to grasp the point of some characters and their actions. I'm still excited for the sequel!
Charms
A: A book with magic
Abhorsen by Garth Nix

I listened to the Abhorsen as an audio-book. Although I think I should rather say that I devoured it as an audio-book. This is the third installment in the Abhorsen series and hands down my favourite so far! I loved the characters and how everything came together. I started to feel at home in this terrible terrible world. The disreputable dog is my absolute favourite.
E: A book with a cover that charmed you
State of Sorrow by Melinda Salisbury

I read State of Sorrow during the magical allnighter, and gosh did I love it!! I made a full review because I was so giddy with its greatness.
Basically State of Sorrow is an amazing fantasy including relatable, intelligent characters, twisted politics and beautiful, atmospheric writing. And look at that cover?! I could frame this book! (but I cannot because I want to reread it).
O: A book you think will leave a mark
Women of Resistance: Poems for a New Feminism

Women of Resistance is a feminsit poetry collection by various poets and I was certain that it would be one of those books I keep coming back to. Unfortunately, it was not. I have a full review of it here, but basically only very few of the poems made me feel much anything. There were about 100 poems in the collection but I only fell in love with 9 of them. Nevertheless, it is a diverse collection from people from various cultures, sexualities and genders so you could try it out to see if it works better for you.
Herbology
A: A book with a green cover
Hunted by Meagan Spooner

Hatred is a fire only a man feels. He does not hate the beast that comes in the night. Mankind fears it, fights it, drives it off, but he does not hate it. No one hates the bear, the wolf. They don't hate the wind or the snow. They don't hate the death.
They hate each other. 
Like many other books in this list, I wasn't planning to read Hunted. But I'm so glad I did! It was the beauty and beast retelling I have been craving to hear. It was so beautiful!
E: A book with illustrations
Language of thorns by Leigh Bardugo

We were not made to please princes.
Language of Thorns includes six fairytales from the Grishaverse. The stories are surrounded by breathtaking illustrations by Sara Kipin that live and change with the stories. The illustrations deserve 100000/5 stars. I liked all the stories but some more than others. Overall they were all eerie but still empowering.
Potions
A: A book with a name of colour in title
All systems red by Martha Wells

Murderbot is a self-aware SecUnit that has been assigned to protect scientists on a dangerous planet. SecUnits are property, not living and feeling beins, but Murderbot has hacked its own governer modules making it an essentially free being. And it hates social interaction with humans, preferring to binge watch soap shows instead. All systems red is one of those rare short stories that doesn't make you think 'aw I just wish it was longer'. This one stands on its own. I really enjoyed it! Murderbot is a funny main character and the plot kept me positively terrified.
Transfiguration
A: A book with a grey colour
Down among the Sticks and Bones by Seanan McGuire

This is the sequel to Every Heart a Doorway but I enjoyed it a lot more than the first book in the series. In fact, DATSAB (lol this shortening) offered me the things that I missed from the first book, a deeper insight into a magical world and deeper understanding of the children who went through it all. I'm hoping to read the third part in the series soon!
E: A new author
Vicious by V. E. Schwab

(That's supposed to be 3.75 stars)
Vicious is a realistic fantasy about two ambitious friends who turn into rivals in their search for superpowers through near-death experiences. Vicious is completely, utterly entertaining. Time flew by at the airport when I read on an uncomfortable chair for hours. I even forgot the chair and my painfully squashed bottom. The only downside for me in Vicious was that it went by so quickly. I wanted more of these characters, more of the backstory and why the hate between Eli and Victor just kept on burning. I'm looking forward to the sequel, Vengeful. And I'll definitely start reading loads more by V.E. Schwab.
Books I did not finish
The above section gives the expression that I pretty much loved everything I read in August. However, I really struggled with two books and ended up DNF:ing them. I want to stay strict with the NEWTs reading challenge and I'm not counting these books towards any challenges.
The Darkest Minds by Alexandra Bracken
DNF @ 55% / page 270
In anticipation of the movie, I rushed to pick up the audio-book of the Darkest Minds but I simply struggled to get into the story. In my 24hr readathon, I live-blogged my struggle with this book and how I eventually decided to drop it. I felt like I just wasn't interested in anything that was happening and continuing it might have driven me to a reading slump.
The Queens of Innis Lear by Tessa Gratton
DNF @ 34% / page 200
By the 200 page-mark I had struggled with this book for what seemed like a long time. I found that I couldn't stand to read this book for more than 15minutes at once or I would start nodding off. My biggest problem with it was the lack of plot and the excessive repetition of things. Basically nothing had happened yet and I was constantly given irrelevant and uninteresting flashbacks. In fact, as soon as the events started to get even a tiny bit interesting, the author decided to transport us back 11 years in the middle of an uninteresting scene instead. Such fun. But I might have enjoyed it more than I did if I had read King Lear by Shakespeare.
Stats and Grades
Arithmancy: Exceeds Expectations
Charms: Outstanding
Herbology: Exceeds Expectations
Potions: Acceptable
Transfiguration: Exceeds Expectations
I think I did very well! I'm happy with my progress and pretty proud that I managed to get that one Outstanding.
If you missed this round of NEWTs, don't worry! I hear that this (and the OWLs!) will be an annual thing so we get to do it again next year. YAY! In future, I'll probably try and add some mid-challenge updates to keep myself on track.
Did you part in NEWTs? Have you read any of the books I mentioned above or are some in your TBR? How was August for you as a reading month? I would love to know!
Thank you so much for reading!
– Pauliina