It's time for some TBRs! TBRs are funny for me because I'm a total list-person and I love to plan my reading beforehand, nevertheless I'm a complete mood reader and I rarely manage to follow my TBRs 😂
We are blessed with a bunch of readathons in July. Below are my TBRs for two of them, but I'll also take part in the Book Battle that runs in Facebook.
My own 24 in 48 style readathon TBR + The Genre Splash – 30th June – 1st July
Are you familiar with the 24in48 readathon? It runs about twice a year and the point is to read for 24 hours within a 48 hour time period (aka a weekend). I have taken part in 24in48 twice before and I have loved it on both times. Sadly, I won't be able to participate in the next 24in48 which runs from the 21st to 22nd of July. Go check the 24in48 website if you're interested. As I'm not able to participate, I decided to have my very own 24in48 this weekend!
Also, Ivyclad Ideas is organising a Genre Splash readathon this Sunday (the 1st of July) and I thought that I would merge my independent 24 in 48 with the Genre Splash. In the Genre Splash the idea is to simply decide on a genre and stick with it during the entire readathon.
I am planning to blog my 24 in 48 adventure this weekend, so keep your eyes peeled for a post in Sunday or Monday 👀
I choose fantasy as my genre, and here's what I'm planning to binge this weekend:
The Astonishing Colour of After by Emily X. R. Pan
My plan is to focus my efforts mostly on this beauty. I have already started it but I'm currently only 50 pages in. Loving it so far! This is actually a bookclub pick in Books Between Strangers Bookclub for the month of June and I'm still catching up. I know, shame on me 🙈 You know what's worse? I nominated it. Yup. And still behind 🙈
If I manage to finish the Astonishing Colour of After, I'll continue on with my Tome Topple reads that are fantasy.
Tome Topple Readathon – 29th of June – 12th of July
I have been wanting to take part in the Tome Topple readathon for the longest time, and here's my opportunity! In the Tome Topple, readers should read books that are over 500 pages long. There are also optional reading challenges. The readathon is hosted by Sam @ Thoughts on Tomes and co-hosted by Adriana @ Perpetual Pages, Sarah-Jane @ The Book Life, and Caz @ The Little Book Owl. Here's the announcement video if you're planning to take part and want to know more.
The challenges are:
1. Read more than 1 tome
2. Read a graphic novel (still over 500 pages!)
3. Read a tome that is part of a series
4. Buddy read a tome
5. Read an adult novel
In the Tome Topple a single book can fulfill multiple challenges (apart from the 1st of course).
The Poppy War by R. F. Kuang
544 pages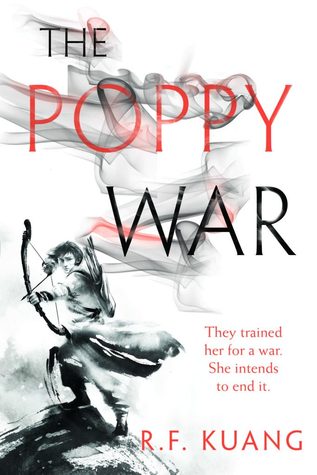 I have an audiobook of The Poppy War which I started today. I'm expecting it to be awesome judging by the things I have heard from others. I'm already loving it! I'll be reading the Poppy War during my independent 24in48 as well.
The Poppy War could fulfill the fifth challenge (adult novel).
The Way of Kings by Brandon Sanderson
1007 pages
Well here is a real tome. I'm eager to start the Way of Kings although I'm a bit intimidated by the size. I have read a lot of books but I think the Way of Kings might be the longest one.
The Way of Kings fits into the 3rd or 5th challenge.
Ruin and Rising by Leigh Bardugo
480 pages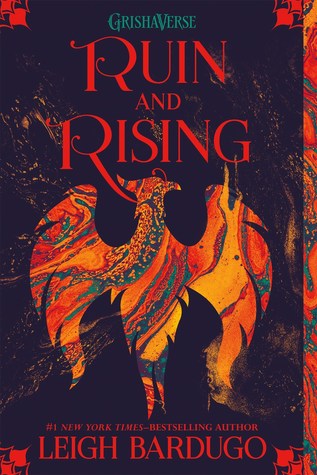 Okay so I'm bending the rules a bit 🙈 I know, I'm the worst. Ruin and Rising is only 480 pages but that's close enough to 500, right? Right? The thing is that Books Between Strangers are discussing Six of Crows on the 15th of July but I want to finish the Grisha trilogy before I jump into Six of Crows. Maybe the length of the Way of Kings compensates for the 20 pages I'm lacking with Ruin and Rising, hah.
Ruin and Rising can fulfill the 3rd challenge.
Six of Crows by Leigh Bardugo
495 pages
Erhm. I'm missing 5 pages but that's okay right? 🙈 Anyway, I'm excited to finally jump into the Six of Crows hype-train!
Not sure if bookclub reading fits the buddy reading criteria, but if it does, I'll make Six of Crows fit challenge 4.
Nevernight by Jay Kristoff
643 pages
Here is my second audiobook if I have time to finish the Poppy War. Illuminae files is one of my all-time favourite series and I would like to read more by Jay Kristoff. Also, I love these covers!
The Queens of Innis Lear by Tessa Gratton
576 pages
Netgalley and publishers were kind enough to give me an ARC of the Queens of Innis Lear and I'm eager to get to it. My only problem is that I would like to have a quick read through the original play by Shakespeare, King Lear, that the Queens of Innis Lear is a retelling of. King Lear wouldn't fit into Tome Topple so I'd need to be happy with some notes off Wikipedia if I pick this up during the Tome Topple.
The above list is crazy already, and I'm definitely not expecting to read all of them within the next two weeks. But I'm hoping to finish 2 or 3 of them. My goal during the Tome Topple is to read 2000 pages within the 2 weeks.
Are you reading any of these? Let me know if you want to buddy read! Do you have any recommendations for the graphic novel over 500 pages? The only one that I can think of is the Wolf Children by Mamoru Hosoda but I read that not long ago.
Are you taking part in the Tome Topple? How about the Genre Splash? Share your TBR as I would love to know!
Thank you so much for reading!
– Pauliina