Goodreads 2018 Reading Challenge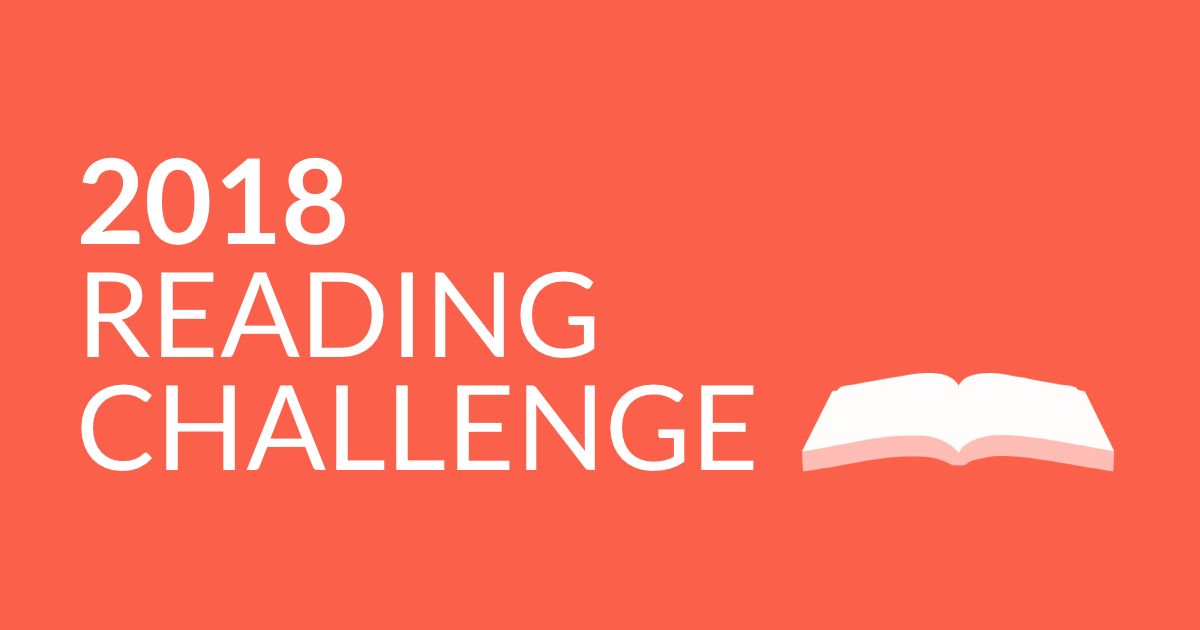 I take part in the Goodreads reading challenge every year, and this year my goal is to read 80 books.
Progress:
22nd of May 2018
The books:
Motley Reading Challenge 2018
I spotted Motley Reading Challenge in a Goodreads group called The Life of a Bookaddict, I liked the prompts so I decided to give it a go!
Progress:
22nd of May: 11/26
To pass, read 25 of these 26 prompts
Green ones done!
1. A book that takes place in the snow/winter
2. A book with the word: dead, death, die, or dying in the title
3. A book or short story written by Agatha Christie
4. A novel, short story, or poem, written by Edgar Allen Poe
5. A book set in a hotel
6. A book with a six-word title:  They both die at the end by Adam Silvera
7. A bestseller from a genre you don't normally read
8. A book that disappointed you: The Power by Naomi Alderman
9. A book that was written over 100 years ago
10. A book set in a place you have never been to: Sourdough by Robin Sloan
11. A book with a child/teenage protagonist: This is how it always is by Laurie Frankel
12. A book written by your favourite author
13. A book by an author you never read before: Outlander by Diana Gabaldon
14. A book you read in one day: Wolf Children: Ame and Yuki by Mamoru Hosoda
15. A book you bought only because it was on sale
16. A book that you absolutely loved: A common and closed orbit by Becky Chambers
17. A book that's been sitting on your shelf for at least 1 year
18. A book you liked, but not a lot of your friends did: Shadow and Bone by Leigh Bardugo
19. A book with a beautiful cover: Astrophysics for people in a hurry by Neil DeGrasse Tyson
20. A book that the ending shocked you: The Thief by Megan Whalen Turner
21. Short story or novella.
22. Cozy Mystery.
23. A book published in 2018: Everless by Sara Holland
24. A book about a historical figure.
25. A book published the year you were born.
26. A Pulitzer Prize winner for fiction.
The Popsugar 2018 Reading Challenge
Popsugar organises a reading challenge every year and this is the first time I'm taking part. There are 50 prompts, 40 main ones and 10 advanced.
You can find this sheet here, if you want to take part too.
I'm being pretty chill about this one, and I just want to see how many prompts I can tick off.
Progress:
22nd of May 2018: 13/50
My 2018 TBR
In addition to several reading challenges (I know I know, but they are SO MUCH FUN) I like to make a small TBR to make me read some books that I have wanted to pick up for awhile.
Progress:
22nd of May 2018: 7/20
Dreams of Gods and Monsters by Laini Taylor

A Closed and Common Orbit by Becky Chambers

The Power by Naomi Alderman

Little Life by Hanya Yanagihara (In Finnish WOOOAAH)

Wuthering Heights by Emily Bronte

Pride and Prejudice by Jane Austen

Vicious by V E Schwab

Do No Harm by Henry Marsh

Madness Explained by Richard B. Bentall

City of Ashes by Cassandra Clare

City of Glass by Cassandra Clare

Clockwork Angel by Cassandra Clare

The Final Empire by Brandon Sanderson

One Dark Throne by Kendare Blake

A Thousand Splendid Suns by Khaled Hosseini (In Finnish WOOOAH the second time)

Shadow and Bone by Leigh Bardugo

The Girl in the Tower by Katherine Arden

Wolf Children

The Thief by Meghan Whalen Turner

The Queen of Attolia by Meghan Whalen Turner