Hello!
I have taken a jump towards the exciting and unknown by starting a blog!
My name is Pauliina
I'm new to blogging, and so I thought the easiest way to get everything rolling would be to do the Book Blog Newbie Tag by Nerd it Urself
Hurrah for avoiding an extremely awkward introductory post! Or at least I hope so.
1. Why did you start this blog?
MmmmmMMMMMmmmm.
I'm sure this will be a magnificient surprise, but I love reading. I collect books, I adore them, I fill 99.998% of my personal space with them and I would love to share that passion with others. I'm hoping that I can join in on the collective loving and hyping of books by this blog.
Also, I'm wonderfully awkward and awfully introverted so naturally I would like to make some bookish friends. We can be awkward together! YIPPIE.
2. What are some fun and unique things you can bring to book blogging?
Wow, not a difficult question at all.
I hope I'll discover a better answer once I actually get started with the blog – but for now – I hope I'll bring in a good mixture of awesome things. I read widely, but also critically. I'm hoping to spark some conversation!
3. What are you most excited for about this new blog?
I'm most excited about doing challenges and meeting new people! I love a good readathon and now I can finally take part in all of them at once and drown in the wonderful ocean of reading responsibilities. I'm not a very competitive person, but when it comes to reading I go a tad crazy
4. Why do you love reading?
I love being transported into a story. It doesn't have to be a book; I can get the same feeling by just someone sharing something. It can be a story of a perfectly calm trip to the mall or how someone left their keys home and realised it the moment they stepped out. I just love stories, and I love when people share them.
That's makes reading easy to enjoy. An endless collection of stories. Pretty awesome, huh.
5. What book or series got you into reading?
I think the book that made me into a bookaholic was Inkheart by Cornelia Funke.
I read it in my native language, Finnish, when I was 9 or 10 or 11 or or or. But I loved it. I think it was the first book that showed me how awesome reading is. I had read a lot before that but my home library was mostly filled with dense adult literature which bored the living heck out of me at that age.
6. What questions would you ask your favourite authors?
This is a pretty difficult question because in real life I would probably just stare, freeze and make weird squeaks.
My favourite authors include Laini Taylor, Claire North, Naomi Novik, Roxanne Gay… And many others!
I would probably ask about how much of the plot they knew before starting to write the story.
7. What challenges in starting a blog do you think will be the hardest to overcome?
I think the hardest moment might hit in the autumn when I'm starting my master's studies. Sooo overall maybe finding time for the blog when I'm busy and stressed out.
8. When did you start reading?
UmmmmMM. When I learned to read? I think I was 6-ish. I remember sitting by my bunny and reading my big sister's school books out loud to him. I bet he loved it, haha.
I only read in Finnish until I was about 17. And dudes – my tiny, precious world shook when I realised how many awesome ass books were out there. Very few novels are translated to Finnish, and when I started reading in English a whole new dimension of awesome opened up for me. Nowadays I very rarely read in Finnish because it tends to mess up my bilingual brain.
9. Where do you read?
Everywhere! I'm one of those people who carry a book around with them absolutely everywhere I go. I have read in the middle of a party, while waiting for a movie to start, and at the top of a mountain in New Zealand (not kidding).
10. What kind of books do you like to read?
My favourite genres are fantasy, scifi and historical fiction, but I will read anything and everything that sounds interesting. In fact, my Goodreads TBR pile ranges all the way from Shannon Hale's The Goose Girl to the Rain: A Natural and Cultural History by Cynthia Barnett. There's fiction and nonfiction, fantasy, scifi, thrillers, crime, historical fiction, magical realism, suspense, and a tiny little bit of horror. Gimme it all.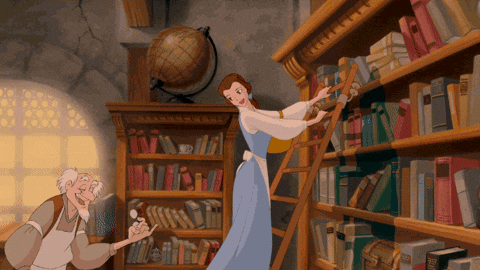 My all-inclusive attitude towards reading extends to my reading platforms.
I love physical books, but I also adore reading on my Kindle Voyage and occassionally with my old, refurbished, Kobo Mini. I'm constantly listening to audiobooks.
Everything goes! Give me a book printed to a t-shirt and I'll consume it.
That was it! Can't believe I have just managed to produce my very first blog post. I'm excited to get properly started and hoping to meet many new friends along the way.
I have seen a bunch of amazing bloggers do the same tag, go and check out The Book Mermaid's, Ashley in Wonderland's , or Fictional Worlds & Me's if you want to browse some more of these.
Thank you so much for reading!
 – Pauliina